The Quarter Mage by Angelina J. Steffort


Recommended: Yes!
For a magical adventure, for a familiar story structure, for some interesting magical creations and rules, for VENGEANCE, and for family
Summary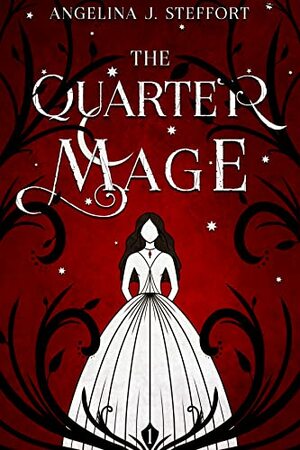 Perfect for fans of A Court of Thorns and Roses by Sarah J. Maas and The Cruel Prince by Holly Black.

WHEN DESTINY FAILS YOU, WHO WILL YOU BECOME?

A forgotten princess. A cruel realm. A Mage who might be her salvation.

Sanja is a princess on the run. And when she flees her father's court to escape an arranged marriage to a tyrant, the one thing she doesn't expect, is to be killed for her throne.

But magic that shouldn't exist in her kingdom saves her, and Sanja is thrust into the daunting fairylands where, as a human, she's prey…

Fighting to survive, Sanja signs herself into the service of the most powerful Mages in the fairylands, determined to master the magic to save her kingdom—and finds herself stuck with a brooding Mage with a knack for keeping secrets.

As Sanja's feelings for Tristan turn from dread to attraction, she learns that she isn't the only thing the fairies are after. And Sanja must risk her life and her heart, or she will lose both him and her kingdom forever.


Dive into Angelina J. Steffort's latest heart-wrenching upper YA fantasy romance and find out what makes the world of The Quarter Mage so special.
Thoughts
Y'all, we've been sleeping on this book. Let me start this review by saying I'm already anticipating the second book which is out early 2023 (but not early enough for me with the ending of this!). It was a good find from BookBub and I'm so pleased with it!

Okay, praise sung, now to acknowledge that as much as I enjoyed this book, it really didn't blow me away or anything with it's originality or style. There are a lot of scenes and plot structure points that felt very reminiscent of other books (especially Sarah J Maas' titles). Part of that is because it's fairly common fae-and-magic plot lines in general for the genre, and part of it did feel a little more directly inspired by specific books. The thing is, I didn't really care. Even though I wasn't stunned at the direction of the plot, I was fully hooked in for the ride and cheering the characters on.
What sold it, I think, was that the originality in the magic and world overall was there. For me, that's probably more important. Learning about the lore behind the fearsome and crazy magical creatures delights me with every nugget. The Crow Brides? CHILLING, y'all. Loved it. So new magic in familiar story lines was fine by me.

Characters matter too of course, and I appreciated Sanja because she seems like a real person reacting in real ways. She's not overall naive, but she's also not a feeling-less warrior badass. She has strengths and weaknesses, and she does her best and sometimes she fails but she learns from those failings and moves on. And most of all, she's not swooning at some man making eyes at her. She totally calls the male romance lead out when he's trying to tell her he knows what she and her body needs and she's like "this idiot can't even remember that, actually, I went back for seconds at breakfast so no way am I hungry right now?" I was like, hell yeah sister! ✊

Now. The romance element. It's there, it's a key point, but there's a lot of other things that happen around it so it's not the main focus. There was one scene I wasn't a fan of though, and it essentially comes down to the trope of being forced to kiss due to safety and/or circumstances. Think the scene in City of Ash where Jace and Clary kiss in the underwater Queen's lair. I'm not usually a fan of that coercion and it gives me major side eye. Also, not romantic at all, thank you! But it was one small moment, and not a common theme or issue for me.

So overall, yeah it's a good series starter for a world of kingdoms and magic and discovery of powers!