Hey y'all! I have some very exciting news (for me, at least!) to share:
The Complete List of Jericho has finally arrived!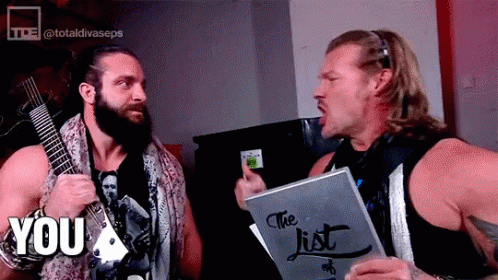 Chris Jericho is a wildly successful wrestler who just celebrated his 30th year in his career. As part of that milestone, he released a book based on notes he's kept since his very first match that detail who and where he fought, how much he got paid, and his rating of his own performance. It also includes anecdotes, photos, and other lists. Top 10 places to wrestle, top 10 lucha matches, top 10 wrestlers who influenced him, etc.
For a while, one of his character gimmicks was adding people who pissed him off to a list, presumably of people on whom he was now seeking vengeance. xD His character was always very dramatic and hilarious, but he's also an incredibly talented performer (both in the sense of his skills in the ring as well as in promos!).
I have been SO looking forward to this book, and it's finally finally here! I'm probably going to be diving into watching some of these matches of his and enjoying them while knowing his commentary for them. 🥰
PS – I also bought his champagne to have my own little bit of the bubbly. It was delish! 😊