Hey y'all!
I actually have a planned reading list for this month, and I actually think I'll stick pretty closely to it. The reason? Well, I'm excited for all the books!! Simple as that. 😀
I'm going for a spooky theme for October. Of course that includes a few thrillers and mysteries (though I've finished one or two already being a few days into October). I have a few spillover books that I was in progress with that I'm wrapping up as well, but those are left off this list because I really want to highlight all the themed books that I'm excited about!
psycho/killer
Ah, finally I will read Sister Dear by Hannah Mary McKinnon!! I wrote about it for a Fast Forward Friday feature ages ago and then recently found the book on Hoopla. But I saved my excitement because I wanted it to be part of my spooky reads in October! FINALLY!! 😁 And I actually read and finished this one right away! It was quite good, and WELL I DID NOT CALL THE TWIST, let's just put it that way!!!
Another one I've been waiting to read forever is The Turn of the Key by Ruth Ware. And also another gift copy from Elise because she spoils me with bookmail. ❤ I'm about a hundred pages in so far, and it seems to be a murder mystery / ghost story with nannying. I'm not big on children, but I can get into ghosts. Plus Scotland. The descriptions of the landscape alone would probably make this worth reading. 😍
the witches return
The Year of the Witching by Alexis Henderson was a recommendation & loan from my book buddy Elise. I'm going into that one mostly blind because I trust her and I love not knowing about the book when it promises to be good! It's also apparently a popular book because I've started seeing it pop up recently.
Nimona by Noelle Stevenson was apparently a webcomic originally, which I can't believe I had not heard of! I grabbed this one for a reading challenge with the prompt "read a book someone else rated 5 stars" and y'all I can happily say I AGREE. It was an absolute delight, and I got so much more than I bargained for! I guess technically there are no witches in that one, but Nimona is crafty and magic-related so I grouped it together.
Eva Evergreen, Semi-Magical Witch by Julie Abe is a book I found recommended by Asha @ A Cat, A Book, And A Cup of Tea. It's a novel blend of magic and science, and combining logic with wonder is basically my favorite thing. Plus I'm sure it'll be funny! I'm expecting a spunky witchy Macgyver.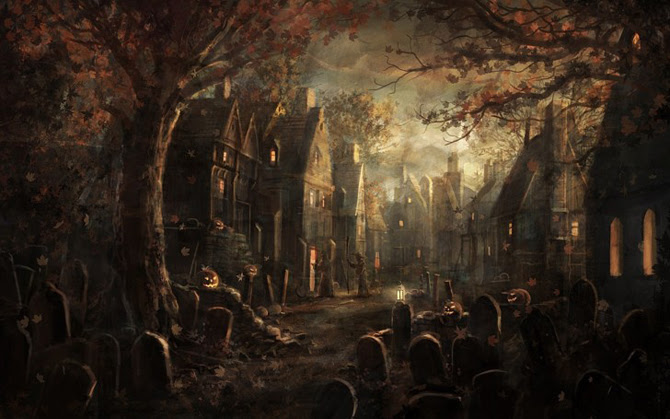 creatures of death
Oh boy oh boy oh boy oh boy if you're wondering why Shadows Rising (by Madeleine Roux) got to be the BIG book cover in the collage, it's because IT'S SHADOWLANDS AND I AM SO EXCITED! The game release was pushed out, which is okay because it really still needs some work, but also because now I have time to read the book before I start the new expansion. World of Warcraft consistently has some of the best fantasy storytelling I've ever encountered, both in games and novels and even their cinematics and companion videos!!! So yes, I'm excited. Brief explanation: they go to the Shadowlands, the afterlife, the world of the dead. But some Big Bad is sucking away all the energy and stealing every soul, good or bad, to be tortured for eternity. WHO WILL SAVE THEM??? 😏
Orestin's Own by L. Alyssa Austin is a book with demons and magic, and that's usually all I need to sell me on a book. 😁 I've only been able to read the first few pages but I'm already fascinated, so here's hoping it continues to impress!
Justin Cronin's The Passage is filling a long-empty void for me, because my S.O. and I watched the show a year or two ago when it came out and it was SO GOOD! But of course, it didn't get renewed. Thankfully, it's based on a book, and we all know the book is usually better, so it's some consolation. I'm finally diving in to this vampire book filled with science and conspiracy and (hopefully) lots of perfectly creepy death and vampire skills.
And finally. I bought this book in a haul from my fav. bookstore a few months ago, but it was one that I was so excited about that I didn't want to read it right away because then I could look forward to reading it for longer. …It makes sense to me. But here I am, finally able to delve my beloved book of necromancy! I haven't found many books of necromancers before, and I think that's a tragedy. Please, don't let me down, Reign of the Fallen!
Spooky but also sweet
You may have noticed (if you actually read all of those) that some of these books aren't really…. spooky. Or even mildly frightening. I mean, did you SEE that book about the cutesy witch learning to do magic? But hey, I know what I need and sometimes I need a little dash of sugar in between all the death and murder and stuff. It's a tough life! 🧛‍♀️🍭💀🍬