One of the main issues I have with newly published books is hype. When it feels like everyone is talking about a book, I end up sick of it before it's even out. No matter how interested I might otherwise be, I usually end up staying away from it for a while.
So when did "hype" first start? And is it anything related to how we use it today, like when something is said by many people to be outrageously amazing and mind-blowing?
Origins of the word 'hype'
When did it first get used?
1914
What does it mean?
As a verb: to swindle by overcharging or short-changing
As a noun (1): a no-good dirty swindler
As a noun (2): excessive or misleading publicity or advertising (this is the same for our current-day verb form like my example issue above!)
What did it come from?
This comes from the shady underworld — my favorite! They have words for everything there. It was used in reference to con men who would try to trick people by charging them too much or not giving them enough change in return after payment.
Hyper, as the con men were called (1914). This comes from the prefix hyper-, meaning "in excess"
To hype or hyping is what con men did.
In the sense that we have it today from the 2nd definition above, it's related to the word hyperbole which is an extreme exaggeration of something. ("I just finished this book and I am literally dying right now.") Book reviewers are notorious for this… we're an emotional bunch. 🤣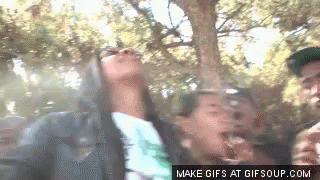 It's not a new one, though!
This word also took some unexpected left turns of related meanings. Some startlingly delightful and some more dark.
1700s: depressed, termed as "the hyps." Somewhat annoyingly related to the idea that depression was a fake issue (hypchondria, 1816)
1913: drug user slang for hypodermic needle used to inject drugs. Presumably related in that the result of injecting the drug makes you feel over the top and "hyped up"
and a little bonus:
Ballyhoo: meaning hype, originating from circus term for a sideshow used to draw people in to the main (paid) show (1908)