I ran into an unusual problem yesterday. I started a nonfiction book that I'd been considering reading as part of a sequence of books, and while reading the sample intro chapters from the book, I realized I really hated the author's attitude.
The premise was that he wanted to take his family on a trip to France, but didn't have quite enough money. The solution was to allow others to choose what he would have to do while there if they donated to the trip, and he would then write a book about the experiences. The response was great; people donated plenty of money, came up with an amazing range of ideas, and generally his goal had been accomplished!
And yet. The author at one point noted that someone had generously donated A THOUSAND DOLLARS for him to do this. That's amazing. The author's response?
"I hate this person."
Seriously? Dude — someone just gave you a thousand dollars to go to France. What the hell are you complaining about? This was the moment I was totally turned off. The attitude shown here was astonishingly ungrateful.
The problem
A large part of why I had been excited about the book was because I was expecting the person to grow and learn through this series of experiences dictated by others. From this intro chapter, I feel pretty confident that it didn't quite happen that way.
I understand that the author meant he was bitter because with such a large donation, he had now committed to doing these activities that he didn't want to do. He was scared of stepping out of his comfort zone. But that attitude is just so poor right from the start that I knew I wouldn't want to listen to this guy for the entire 200 page story.
There were warning signs early on in the selection as well. He wanted to go to France, sit in cafes, and write a book about him sitting in cafes. That sounds like a terribly boring flop of a book idea. When the people he loves and respects in his life told him that sounded like a terribly boring flop of a book idea, he got real salty. Even when they provided excellent alternatives or options (like the experience donations). His attitude towards them was unfair. Overall it was a very bitter and begrudging tone towards everything.
The response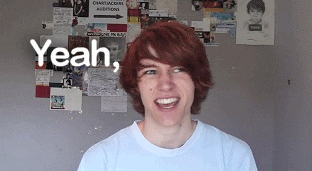 So I ditched it. If I was already giving this guy some serious side-eye while reading and thinking to myself that he sounded like someone I would not get along with well in person… it's probably best to just skip it entirely.
The best comparison I can think of is how some people feel about Kanye West. I have often heard or read people say that they can't stand his attitude and beliefs as a person, but they absolutely adore his music. And they're so torn about it! They don't want to support this person they so dislike, but they have to admit they love his artistic creation.
Would you stop reading a book because of something you learned about the author? Whether it was a fiction novel written by someone who you learned lived in a way you can't condone, or a nonfiction book with a bad attitude, when would you call it quits? Or would you just plow on anyway?