Esme's Wish by Elizabeth Foster – ⭐ ⭐ ⭐ ⭐
Thanks to Booksirens for giving me a free copy to review!
Recommended: yes!
For advanced readers 8th grade and up, for fans of YA fantasy and creative touches in a world, and those who want happy moments in their reading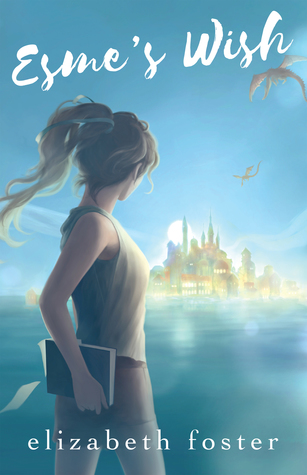 Summary:
Esme doesn't believe what everyone tells her: her mother died in a shipwreck. Even years later, after her father's wedding to a wretched new woman, Esme can't let the mystery go. When her path leads her to a secret parallel world with enchanted waters and magic at it's very heart, she realizes the stories her mother told her were true. Following clues through her mother's remaining paintings, Esme's search for her mother uncovers a darker secret about the city than anyone knew. With her friends, she has to stop the calamities affecting this world, even if it means possibly realizing her mother wasn't who Esme always thought.
Thoughts:
So this is being published as a middle grade book, but I would put it WAY above that, unless it's a VERY advanced reader. The vocabulary is a pretty high level, and I really don't expect even most high school students to know "soporific" or "helictites" (even I had to look up that second one!).

The world has delightful imaginative touches, such as temporary tattoos that cast tiny holographic animated versions of themselves into the air when you rub it. I enjoyed those creative little ideas the most, as it set this fantasy world of Esperance apart from so many others that I have traveled to in my reading. The strong relationships that Esme builds with Daniel, Lillian, and a few of the adult characters showed positive character growth. It was such a sweet moment when she realizes she trusts them as her friends, and that she has never felt that before. Besides all that: it's a fun story! I'm actually interested in picking up the next book!