The Unlikely Adventures of the Shergill Sisters by Balli Kaur Jaswal – ⭐ ⭐ ⭐ ⭐
Recommended: yes!!!
For fans of travel, learning new cultures, exploring family dynamics, and wonderfully written and developed characters. Left me fist pumping and cheering along with them!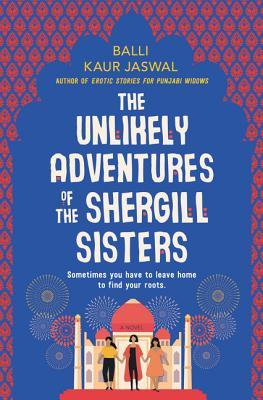 Summary:
To go or not to go; that's the debate the Shergill sisters have after their mother's death. Her dying wish for them to return to their homeland, India, and complete a pilgrimage together, is one none of them are thrilled about completing. Growing up in Britain, none of them know much about their supposed home, and growing up in a tense household at odds, they don't know much about each other either. The stresses they each carry with them are going to make time in close quarters even more challenging. The sisters struggle with trusting themselves, trusting their mother, and trusting each other. And occasionally, trusting Tom Hanks.
Thoughts:
OHMYGOD, I loved this! I was so excited to read it, and it was one of those books where within 20 pages you know you were right and you WILL love this book. I love learning about places and cultures through reading, even novels, and this was a new one for me: Sikhism and India. I enjoyed learning about the little bits they mentioned in the book, but as a story it was so strong as well!

The characters are the absolute best. It can be hard to develop strong characters when you have several all taking turns narrating, but they each provided insight into themselves as well as each other when they took their turn in the story. Even the mother, who is dead basically the whole time, feels like a familiar friend by the middle of it. One whose quirks and flaws and passions I know and love.

One great aspect of this novel is the lack of a romance line. It's very firmly based on the sisters and them learning about themselves as individuals as well as a group. The secrets that each sister has throughout their pilgrimage through India are hinted at and built upon, but not in that way where it feels so blunt and tactless; none of those single sentences at the end of chapter just saying "She thought she would be ok… until she remembered what he had said before she left." or some rubbish like that. My god, that gets annoying, right? These were gracefully and naturally woven in, which is key in any story for me.

Is it predictable? In some ways, yes. I had a feeling they would all find their happy endings, reconcile, and all that. But the method of each resolution was hazy enough to keep an air of mystery for me, and I loved it for that. I knew the what, but not the how, and isn't the journey all the fun of it anyway?

I received an ARC of this from a Goodreads Giveaway – thanks!